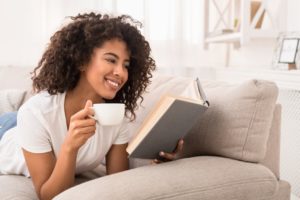 Coffee is one of the most widely consumed beverages on the planet; in fact, over 400 billion cups of java are consumed each year! But as popular as coffee is, it isn't great for your smile; it's notorious for causing stained teeth. But what about if you have porcelain veneers—can you still regularly enjoy coffee with no fear of your veneers becoming stained, or is it better to show restraint? Here's more from your dentist in Denton about why you should still be careful when you drink coffee if you have veneers, along with some tips for ensuring that your smile stays white and bright.
Are Veneers Capable of Becoming Stained?
The short answer here is yes, unfortunately your veneers can become stained even though they're technically more resistant to staining than your natural teeth. Coffee is just one of the many foods and drinks out there that are capable of discoloring your teeth and veneers alike. In addition to the things you eat and drink, smoking and using tobacco products can also easily lead to stained veneers, on top of a slew of other oral health issues! Simply put, any sort of consumable that can stain your natural teeth can also potentially stain your veneers when used in excess or over an extended period of time. Poor oral hygiene can also lead to stained veneers the same way it can dull your natural pearly whites!
Can I Do Anything About My Stained Veneers?
Even though most patients don't develop highly noticeable staining within the lifespan of their veneers, there are still a few solutions for when it does happen. Your dentist can clean your veneers using specialized toothpastes, veneer polish, and other types of various tools and methods that improve their appearance substantially.
However, it's worth noting that veneers don't typically respond to traditional teeth whitening methods or store-bought products, meaning you shouldn't expect to be able to address the issue yourself. Visiting your dentist is the best way to ensure that your veneers are provided with the specialized care they need to look their best once more. In some cases, veneers can be replaced if they don't respond to whitening.
How Can I Prevent Future Staining?
You don't have to give up coffee entirely to prevent your veneers from becoming stained! There are many things you can do to ensure their integrity and brightness—consider the following:
Brush twice a day for two minutes each time using a soft-bristled toothbrush.
Floss daily—flossing is just as important as brushing!
Avoid harmful oral habits like smoking or using tobacco products. Using your teeth as tools might also potentially damage your veneers, which can also ruin their appearance.
Visit your dentist for regular preventive care; not only will this improve your oral health, but it'll allow your dentist to inspect your veneers and polish off built-up surface stains.
Be mindful of what you eat and drink! Other than coffee, items that can stain your veneers over time include things like berries, tomatoes, ketchup, red wines and sauces, tea, and more.
Following these tips and knowing what can potentially cause your veneers to become stained will ensure that they look their best for the foreseeable future—and without you having to give up your favorite beverage!
About the Practice
The team at Prime Dentistry is honored to serve patients and families in the Denton community under the leadership of Dr. Dhiren Ahir and Dr. Rajiv Shekhadiya. Their practice is thrilled to offer a wide range of services including cosmetic options like veneers. If you have any questions about veneers or would like to arrange a visit, you can contact the practice online or by phone for assistance: (940) 514-0333.