Invisalign – Denton, TX
Straighten Your Teeth Without Visible Braces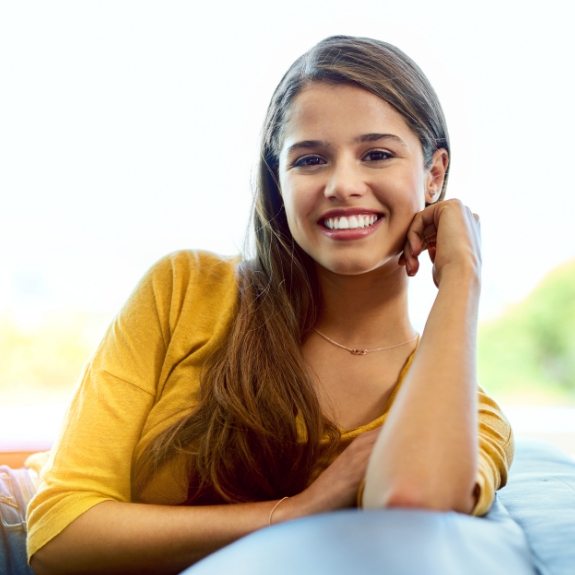 Many adults and older teens could benefit from orthodontic treatment -- but few people are enthusiastic to wear metal braces for a year or more. Fortunately, there is a wonderful alternative with Invisalign in Denton. This clear aligner solution uses a customized approach to place focused pressure on misaligned teeth, gradually bringing them into the proper position. Keep reading to learn what you need to know about this treatment option, then call us to determine whether or not it's right for you!
Why Choose Prime Dentistry for Invisalign?
Trusted Dentist with 20+ Years of Experience
Metal-Free, Flexible Orthodontic Solution
Compassionate Dental Team That Cares About Patients
Benefits of Invisalign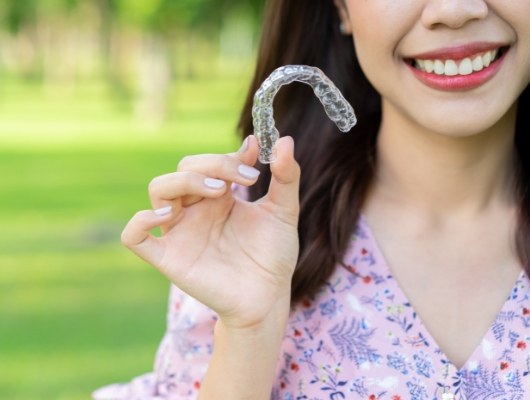 Invisalign offers many advantages for patients who need orthodontic treatment but wish to avoid wearing visible braces. Some of the most significant benefits of this option include the following:
Clear aligners are very subtle, if not practically invisible when worn
Removability means you can take out the aligners before eating, brushing, flossing, and in anticipation of big events
The aligners are customized to ensure a comfortable fit
Smooth plastic will not rub blisters in your soft oral tissues
Fewer visits to the dentist are required throughout the treatment compared to metal braces
Straighter teeth equal a more attractive and confident smile
How Does Invisalign Work?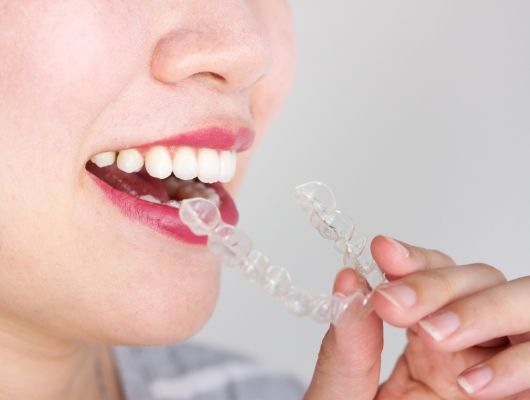 To set you up with your Invisalign treatment, your dentist will take scans of your teeth and put together a plan to gradually straighten them over the course of 18 to 24 months, on average. You will receive a series of aligners and be instructed to wear each one for 1 to 2 weeks depending on your unique needs. You can remove the aligners to eat, drink anything other than water, brush and floss your teeth, and for special events as long as you have them in for at least 20 hours each day. Visit our office for periodic appointments so we can check in on your progress -- and once the treatment is complete, we will fit you for a retainer to ensure your teeth are right where they should be for years to come.
Caring for Invisalign Aligners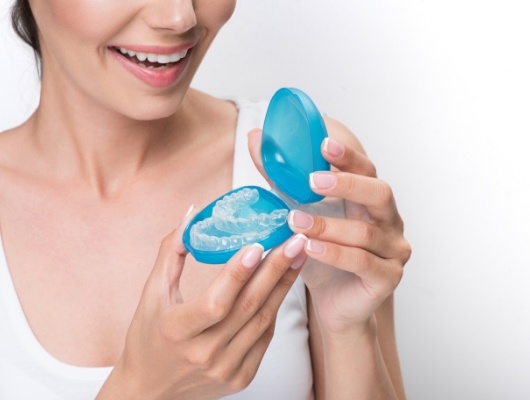 Keep these tips in mind to ensure your aligners function properly:
Clean the aligners at least once a day
Rinse the aligners after taking them out and before reinserting them
Clean them with cool to room temperature water only
Anytime you are not wearing your aligners, be sure to store them in the special hard case to prevent loss or damage
Am I a Candidate for Invisalign?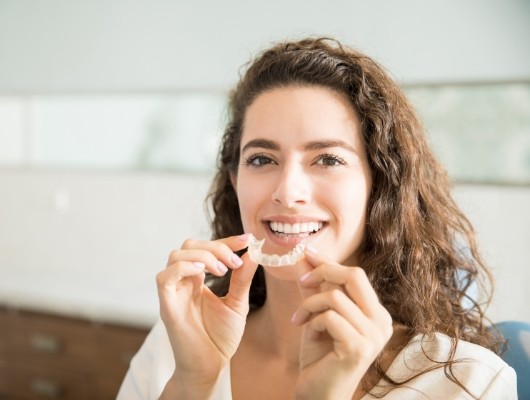 If you could benefit from traditional braces, chances are excellent that you are a candidate for Invisalign. This treatment can correct gapped teeth and crowded teeth, as well as overbite, underbite, and crossbite. The only way to know for sure if you are eligible for clear aligners is to get in touch with our office! Feel free to request an appointment to learn more about Invisalign and your smile today.
Understanding the Cost of Invisalign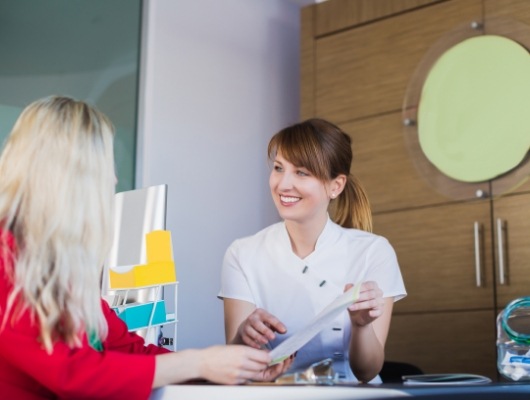 Upon arriving for your consultation, you can expect us to examine your smile in its entirety before coming up with the perfect Invisalign treatment plan—along with the expected total cost. We'll consider everything including the number of aligners you need, the severity of your case, and the type of retainer you'll need to wear once you've wrapped up your treatment. To learn more about the cost of Invisalign in Denton, continue reading below, or feel free to contact us to request additional information.
Read More
FACTORS THAT AFFECT THE COST OF INVISALIGN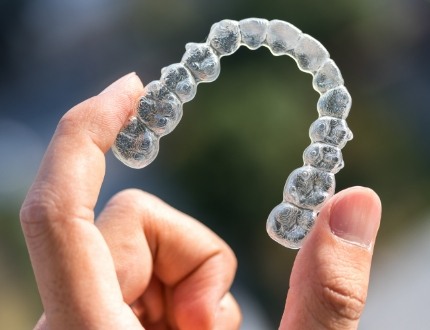 No two smiles are alike; everyone has unique smile needs, meaning that the cost of Invisalign will vary from patient to patient. However, here are a few of the main factors that usually affect the total cost:
The number of aligners needed – This is related to the extent and type of your misalignment.
Whether you are straightening one arch or both – It's generally more expensive to straighten both the upper and lower rows of teeth, than straightening just one or the other.
Your compliance with treatment – Lost or damaged aligners need to be replaced, and these costs can quickly add up! Additionally, not adhering to the 22-hour rule will lengthen your overall treatment process.
Any necessary accessories – If you need elastics (small rubber bands) or other accessories, these can also factor into the final cost.
INVISALIGN VS SMILE DIRECT CLUB™: WHICH COSTS MORE?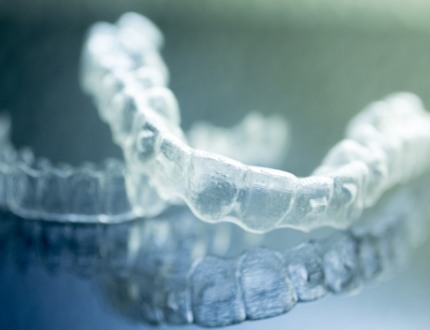 Understandably, some patients prefer to opt for cheaper straightening solutions, including Smile Direct Club™. But as attractive as the DIY system might seem, it's important to note a few differences between this option and Invisalign:
DIY aligners are often made from cheap plastic, while Invisalign uses a patented material that isn't just stronger, but also designed for comfort.
There have been accounts of DIY aligners ultimately being ineffective, and in some cases, they've been known to worsen alignment.
With Invisalign, you're guaranteed the support of our amazing team! This guidance is instrumental in your treatment's success.
DOES DENTAL INSURANCE COVER INVISALIGN?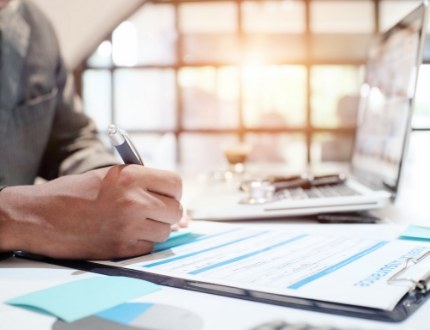 Many dental insurance plans include a one-time provision for orthodontic treatment, and Invisalign is often included! However, it's always wise to verify the details of your plan beforehand to be sure that your treatment is covered. Our knowledgeable team would be happy to sit down with you and review the details of your insurance plan so that you're able to fully maximize your benefits while lessening the strain on your wallet.
OPTIONS FOR MAKING INVISALIGN AFFORDABLE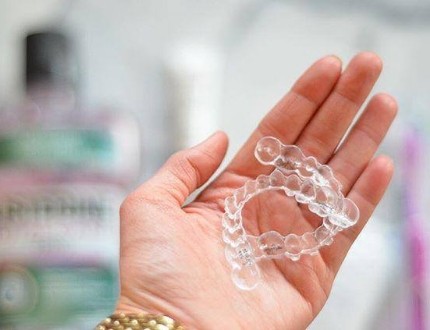 These days, not every patient is enrolled in a dental insurance plan—but that doesn't mean you're entirely out of luck when it comes to affording Invisalign! We're thrilled to offer alternative payment options such as CareCredit, which will allow you to break up the cost of your treatment into smaller, more manageable installments. To learn more about how you can afford a straighter and healthier smile with Invisalign, don't hesitate to get in touch with our practice today!