Frequently Asked Dental Questions – Denton, TX
Helping You Get the Answers You Need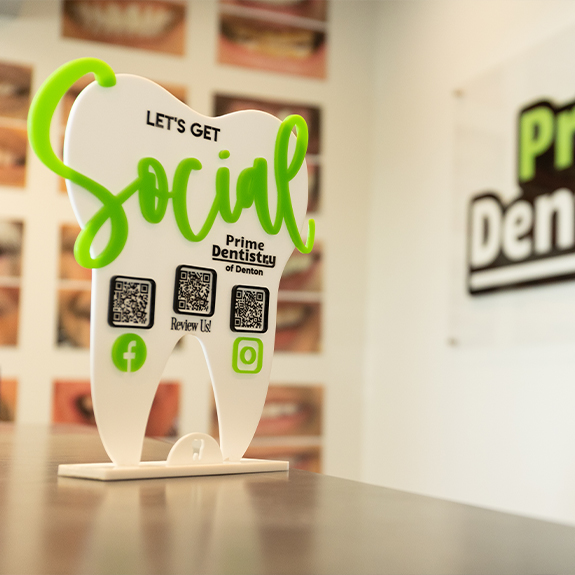 Have a question? Then you've come to the right place! Below, we've answered some of the most common questions our team receives every day. Whether you want to know more about Prime Dentistry or dental care in general, this is a great place to start! If you have a question that hasn't been touched on here, be sure to give us a call today.
HOW OFTEN SHOULD MY FAMILY VISIT THE DENTIST?
According to Dr. Ahir (as well as the American Dental Association), patients of all ages should visit a dentist at least twice a year for a checkup and cleaning. These appointments, along with a consistent oral hygiene routine at home, offer the simplest and most effective way to prevent common dental problems like tooth decay and gum disease (plus they can help safeguard someone from oral cancer as well).
DO YOU SEE CHILDREN AT YOUR DENTAL OFFICE?
Yes! Prime Dentistry is happy to serve patients of all ages, including Denton's littlest smiles. Many of our team members are parents themselves, so we'll know just how to keep your little one comfortable while we provide the kid-friendly services their growing smile needs.
WHAT IS THE BEST WAY TO REPLACE MY MISSING TEETH?
While this answer is different for every patient, for most looking to close the gaps in their smile, our team would highly recommend dental implants. In short, they are the only treatment that restores both the root and crown of a tooth, delivering a result that is natural-looking, strong, and can be trusted to last for 30 years or more. Plus, unlike many other offices in the area, we're able to provide the entire procedure under one roof, saving you from an expensive referral.
DO YOU ACCEPT EMERGENCY DENTAL PATIENTS?
Yes. If you or a loved one are experiencing a dental emergency (such as a broken or knocked out tooth or severe dental pain), just give Prime Dentistry a call, and we'll work to see you as quickly as possible so we can relieve your pain right away. We're often able to see emergency patients the same day that they call in!
WILL YOU ACCEPT MY DENTAL INSURANCE?
Prime Dentistry is an in-network provider for most major PPO dental insurance plans, so yes, we will take your insurance and do everything we can to get the most out of your benefits. To learn how we can use your particular plan to help you save, contact us today.
IS THERE A WAY I CAN FINANCE MY DENTAL CARE?
Yes! You can sign up for a low-to-no interest payment plan with CareCredit right through our website. They have a wide variety of plans that are suited for any budget, and you can explore your options by clicking on the link on our For Patients page.
DO YOU HAVE ANY NEW PATIENT SPECIALS OR DISCOUNTS?
Yes, and you can learn all about our current specials by clicking here.