Dental Implants – Denton, TX
Fill the Gaps in Your Grin for Good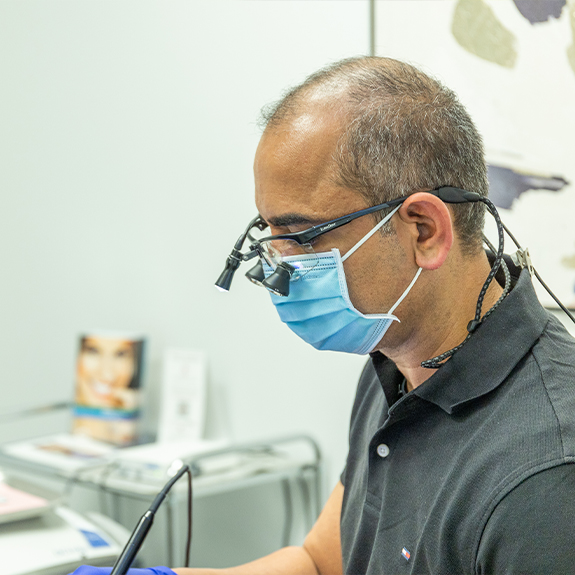 Over the past three decades, dental implants have become the most complete and lifelike tooth replacement option available today, loved by patients and dentists alike around the world. Now, you can get this state-of-the-art solution right here at Prime Dentistry. From beginning to end, we'll be with you every step of the way while we rebuild your complete smile so that it's guaranteed to look great and last a lifetime. To learn more about dental implants in Denton and what they could do for you, give us a call today!
Why Choose Prime Dentistry for Dental Implants?
Start-to-Finish Dental Implant Placement & Restoration
Highly Skilled Dentist with Decades of Experience
Natural-Looking Restorations for Patients' Smiles
What Are Dental Implants?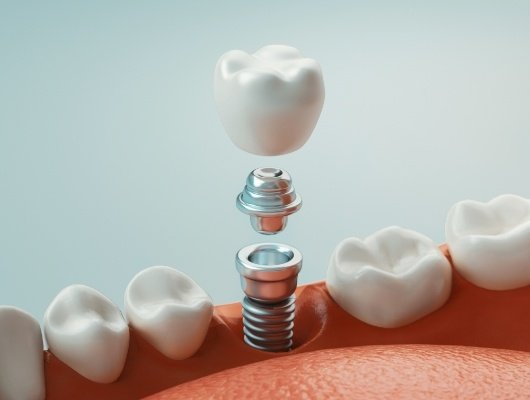 A dental implant is a small titanium post that we insert into the jawbone during minimally invasive surgery. It replaces the root of the missing tooth. Following the implant placement surgery, your body will go through a process known as osseointegration, wherein your jawbone will bond with the implant, thus establishing a strong foundation for your new tooth. After osseointegration, we will design a custom restoration (which could be a dental crown, bridge, or denture) to attach to the top of the implant, replacing the visible portions of your lost teeth.
Not only do dental implants have an extremely natural appearance, but they also prevent and even reverse the jawbone deterioration that is so common after tooth loss. Thanks to the high-quality materials we use, dental implants can be expected to last for 30 years or more, which is several times longer than other tooth replacement options.
The 4-Step Dental Implant Process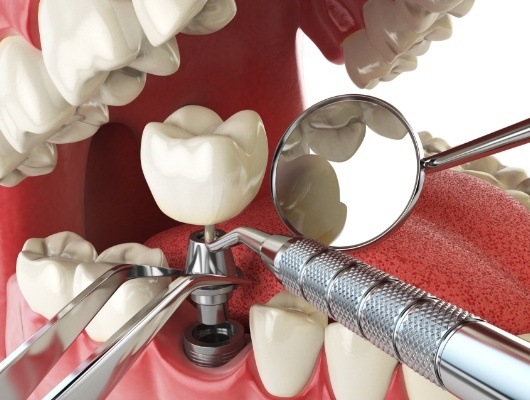 Most dental offices need to refer patients to outside specialists for surgical dental implant placement. This typically adds quite a bit of time, expense, and stress to the process, which is why we save our patients the hassle and offer the entire procedure right here at Prime Dentistry. Dr. Ahir has the specialty training to perform both the surgical placement and restoration of implants so that our patients can enjoy a smooth and efficient experience while reclaiming their smiles. The dental implant process can take several weeks or even months to complete. Once it is finished, though, we think you'll find that it's well worth the wait! Each patient's dental implant journey will look a bit different, but the four basic steps of treatment will remain the same. Read on to learn how dental implants work in Denton!
Read More
INITIAL DENTAL IMPLANT CONSULTATION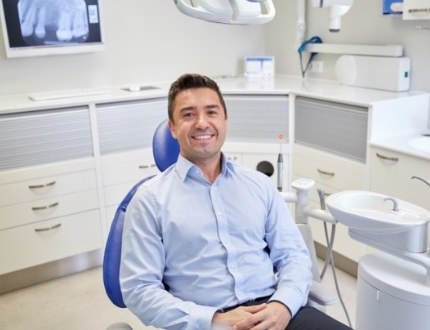 First, you'll come into our office for a consultation. Dr. Ahir will carefully examine the condition of your oral health and review your medical history to see if you're a candidate for dental implants in Denton. In some cases, we'll need to provide preliminary treatments like bone grafting, extractions, or gum disease therapy to prepare your mouth for dental implants. Then, we can create a custom treatment plan for the rest of the process that includes important information like the predicted timeline and cost.
DENTAL IMPLANT SURGERY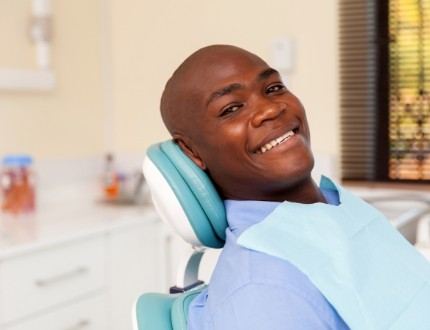 Because we provide dental implant surgery and restoration at the same location, you can enjoy a convenient and comfortable process. Once you come in for your appointment, the surgery itself is relatively straightforward. We will ensure that the affected area is completely numb, and we also offer sedation for a greater sense of relaxation. Next, a tiny incision is made to access your bone. Once a small hole is created, your implant is placed. We will close the gums and provide you with a protective cap during the healing period.
DENTAL IMPLANT OSSEOINTEGRATION & ABUTMENT PLACEMENT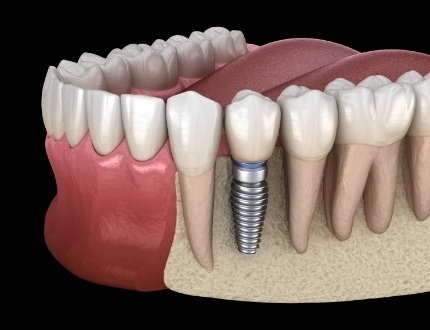 After your implant is placed, you'll begin a special healing process called osseointegration. Dental implants are made of biocompatible titanium, which allows them to permanently fuse to the jawbone. It will take about 3 to 6 months for your implant to completely integrate with your jaw. While this may seem like a long time, it's precisely what allows you to enjoy the unique benefits that dental implants provide. Then, there is an additional procedure where we will place an abutment on top of the implant – a small connector for your final restoration. Next, impressions are taken, which are used to create your personalized restoration.
DELIVERY OF DENTAL IMPLANT RESTORATIONS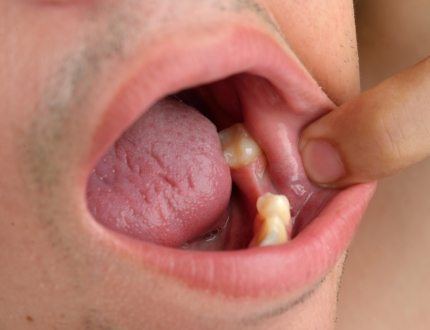 Lastly, you'll return to our office for your final restoration. This is an exciting appointment because you'll get to walk out with your full, strong, and beautiful set of teeth. Your final restoration can be a dental crown, bridge, or denture depending on the number of teeth you're missing. We will ensure that you're happy with your results. Plus, we'll see that you have a comfortable, natural-feeling bite. All that's left to do is to enjoy your newly rebuilt smile thanks to dental implants!
Benefits of Dental Implants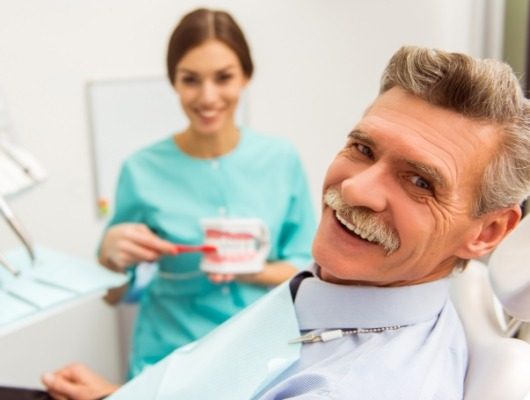 Although today's dentures and dental bridges provide lifelike tooth replacement, we highly recommend dental implants for most patients. Thanks to the unique surgical placement of dental implants in the jawbone, they look, feel, and function more naturally compared to traditional replacements. This solution provides several life-changing advantages that you simply won't be able to enjoy with dentures or bridges. Read on to learn more about the benefits of dental implants in Denton.
Read More
DAY-TO-DAY BENEFITS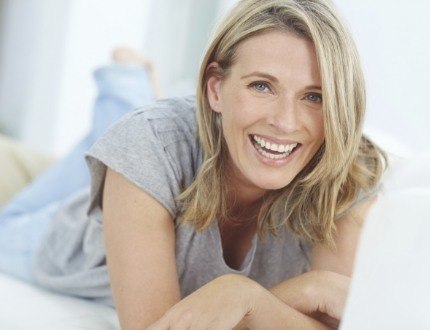 Diet: Because dental implants are rooted firmly in the jawbone, they let you eat a wide range of foods, including your favorite, tougher items. Of course, this allows you to enjoy a more delicious AND nutritious diet.
Self-esteem: If you've been hiding your smile due to missing teeth or ill-fitting dentures, your mental health and self-esteem have probably taken a hit. However, implants provide you with an extreme confidence boost, allowing you to show off your beautiful, lifelike smile in any social or professional setting.
Comfort: Unlike full or partial dentures that slip and slide around when you're trying to do simple things like eat or speak, dental implants feel like natural teeth. You won't have to worry about your grin shifting during your daily life, plus you won't experience the irritation and discomfort that a prosthetic smile can cause.
HEALTH BENEFITS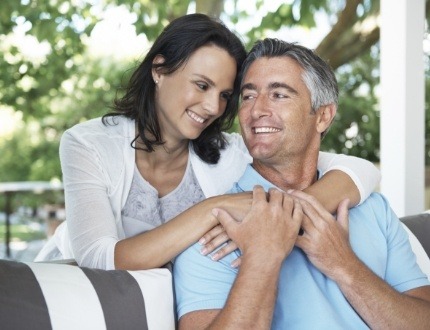 Bone health: The only truly comprehensive tooth replacement option, dental implants in Denton replace the teeth along with their roots. They stimulate the jawbone to prevent it from deteriorating after tooth loss. The artificial tooth root acts as a natural one, keeping your bone healthy and strong.
Dental health: Options like dental bridges require the alteration of natural tooth enamel to accommodate crowns for support. However, dental implants are rooted in the jaw, preserving the rest of your natural, healthy smile.
Oral healthcare: Maintaining dental implants is much easier than options like dentures because they're similar to your natural teeth. Brush and floss them just like your original smile while lowering your risk of issues like cavities and gum disease.
LONG-TERM BENEFITS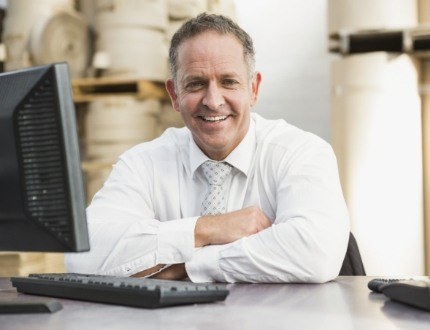 Success rate: One of the reasons why over 500,000 Americans choose dental implants each year is their predictability. Even after 10 years, they have a success rate of 95%, giving patients peace of mind during the entire process with our implant dentist in Denton.
Longevity: The unique osseointegration process allows your implants to become a permanent part of your body. The dental implants themselves are designed to be incredibly durable, lasting over 30 years with proper care.
Cost: Because of their ability to last decades, dental implants prevent you from getting unnecessary replacements. For instance, traditional dentures must be replaced every 5 to 7 years. While dental implants tend to cost more than other options, you can actually end up saving a significant amount of time and money from avoided dental care in the future.
Who Dental Implants Can Help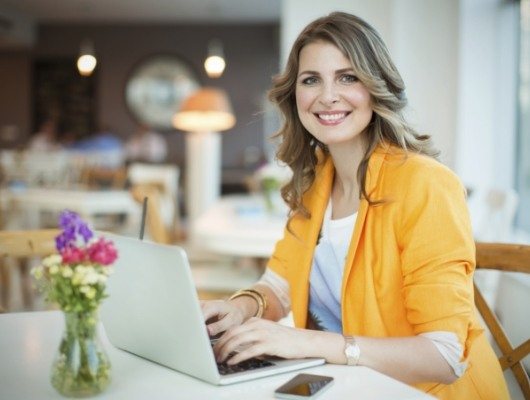 Dental implants can reliably replace any number of missing teeth, from just one to an entire row. In other words, there is a dental implant solution for anyone who has suffered from tooth loss, regardless of the number. Depending on your needs and goals, our team will recommend a customized restorative option that completes your smile and allows you to enjoy the many benefits of dental implants in Denton for decades to come.
Read More
Who Is a Good Candidate for Dental Implants?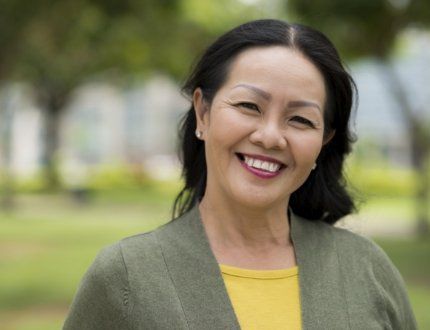 To qualify for this advanced treatment, you need to meet two essential criteria. You must be in good oral health (i.e., have no oral infections like gum disease), and your jawbone must have enough density and strength to support and hold the dental implant. When you come in for your consultation, your implant dentist in Denton will examine your mouth to confirm your eligibility. If you have gum disease, need a bone graft, or encounter some other impediment, we can treat the problem and get you on track for dental implants.
Missing One Tooth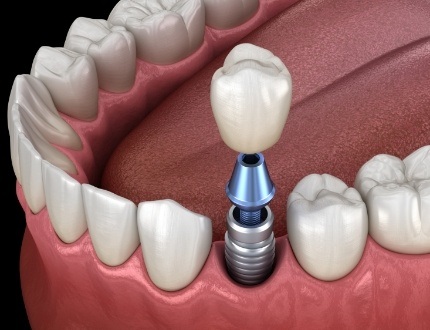 Replacing one lost tooth is pretty straightforward—we use a single dental implant. In this situation, an all-porcelain dental crown can be affixed directly to an implant root after it has been placed within the jawbone. Unlike a regular bridge, this new tooth won't require support from the neighboring teeth to stay in place, making it a safer and more comfortable option at the same time. The implant looks and acts so lifelike, you may forget which tooth is prosthetic!
Missing Multiple Teeth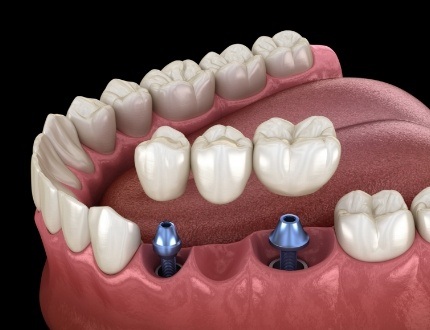 Did you know that we can replace several teeth using just a couple of implants? For those missing more than one tooth in a row, two dental implants on the ends of the gap can hold a bridge, restoring three to five missing teeth much more efficiently than having individual implants. Plus, implant-supported bridges not only look better than traditional ones but can be expected to stay in place better and last longer as well.
Missing All of Your Teeth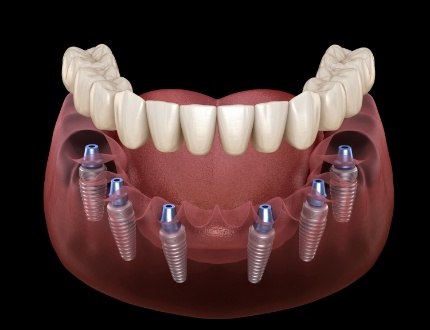 If you've suffered total tooth loss, you may think your days of having a strong smile are over. However, whether you already have a denture or need one, those with no natural teeth can still be good candidates for dental implants. Using a few strategically located prosthetic roots, a denture can be secured directly to the jawbone and provide a comfortable fit and stability that a regular removable prosthetic simply can't match.
Learn More About Implant Dentures

Understanding the Cost of Dental Implants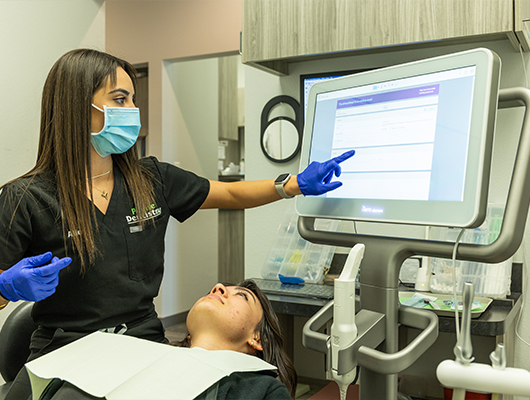 No two patients are alike, which is why it is necessary to schedule a consultation with our team at Prime Dentistry to determine the cost of dental implants. These unique prosthetics offer far more than traditional dentures and dental bridges, making them a superior tooth replacement solution. However, the severity of your case, how many dental implants you will need, the type of restoration you require, and if you need any preliminary treatments can all influence the final price tag of your treatment.
Fortunately, because our dental team is skilled and equipped to complete the entire dental implant process in-house, under one roof, you will experience a more comfortable, convenient, and affordable treatment.
Read More
PRELIMINARY TREATMENTS & DENTAL IMPLANT SURGERY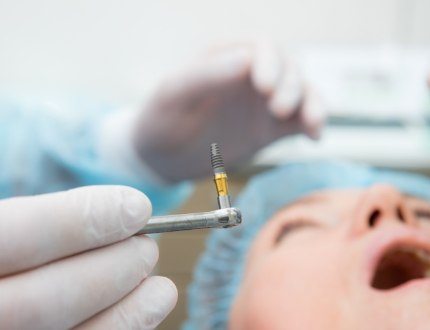 Preliminary treatments like bone grafting, periodontal therapy, and tooth extraction are often recommended for patients. While not all individuals experiencing tooth loss require them, your implant dentist in Denton may suggest one or more of these services if you lack jawbone density, have gum disease, or possess a severely damaged or decayed tooth. If you do need a preliminary treatment before receiving your dental implants, you can expect it to be added to your total cost.
Also, your dental implant surgery has its own fee. However, because the surgical procedure is performed in-house, you will not need to worry about paying a separate fee to an outside specialist, which can certainly keep your out-of-pocket expenses down.
THE PARTS OF YOUR DENTAL IMPLANT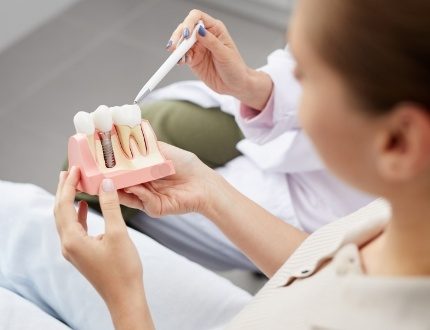 The parts of your dental implant are also considered when formulating your cost estimate:
Materials Used: Our team will likely recommend titanium or zirconia for your dental implants, depending on your needs. The materials used to create these implant posts are figured into the total cost.
The Number of Implants: It is not unusual for a single tooth implant post to cost less than 4 or more required for a full denture. The number of teeth you have missing will determine how many implants you need.
The Brand: There are many brands and manufacturers that make dental implants in Denton. At Prime Dentistry, we choose which brand we will use, but you can count on us to further explain this decision during your consultation and why better-quality products will lead to longer-lasting results as opposed to cheaper materials.
The Type of Restoration You Need: You will receive an implant crown, implant bridge, or implant denture depending on how many teeth are missing. When you only require one artificial tooth to be created, it will naturally cost much less than a bridge or denture.
HOW DENTAL IMPLANTS CAN SAVE YOU MONEY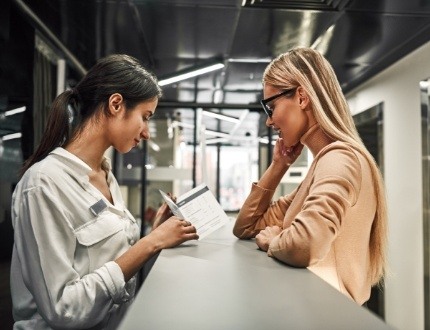 When comparing dental implants to dentures or dental bridges, you will find that more money will remain in your pocket when choosing these permanent prosthetics. Here's how:
You won't need to buy dental adhesives
You won't require special cleaning supplies to maintain your new smile
You won't need regular adjustments and replacements every 5-10 years
You will spend less on treating systemic issues that often occur because of tooth loss and can significantly shorten your lifespan (i.e., heart disease, diabetes, osteoporosis, etc.)
DOES MY DENTAL INSURANCE COVER DENTAL IMPLANTS?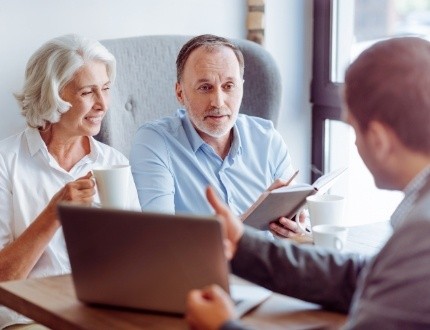 It is recommended that you contact your dental insurance carrier to find out if they provide any type of coverage for dental implant placement. While it is highly unlikely, some companies are coming around to the idea of offering at least partial coverage. However, even if they will not cover your surgical procedure, they may offer assistance when paying for preliminary treatments or your customized restoration. Our team at Prime Dentistry will be happy to help you maximize your benefits and file any claims on your behalf.
MAKING DENTAL IMPLANTS AFFORDABLE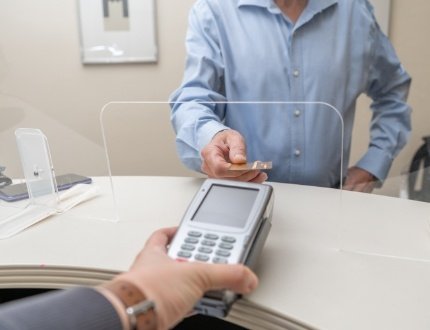 To ensure that your dental implant treatment remains affordable, we also work closely with CareCredit. Whether you're uninsured or need help to pay any remaining out-of-pocket expenses, enrolling with a low or zero-interest payment plan will ensure you can afford your new dental implants. These unique plans are designed to help you break up the cost of your treatment into manageable installments, so you can focus more on the future of your new smile and less on the amount of money it takes to achieve it.
Dental Implant Post-Op Instructions
At first, hearing that getting dental implants requires minor surgery may sound a little intimidating. We're here to assure you that you have nothing to worry about! Thanks to modern techniques and technology, dental implant placement surgery has never been as quick and comfortable. Once you have your dental implants placed, you'll need some time to rest and recover. We'll give you specific instructions and a prescription for pain medication when you visit us. Read on as we go over some important information that will help your healing process go smoothly and quickly!
Read More
WHAT TO DO DIRECTLY AFTER DENTAL IMPLANT SURGERY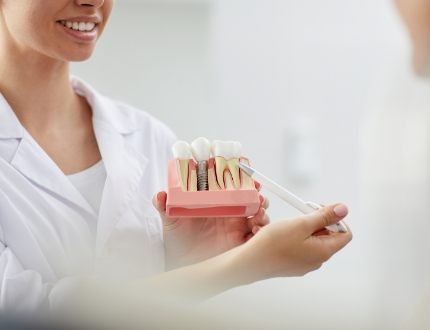 You should plan to rest for at least a full 24 hours after your dental implant surgery. Most patients only need to take a day off of work or school to recover from dental implant surgery, but everyone is different, so it's perfectly natural if you need closer to a week or so of recovery.
When you get home from your surgery, make sure to follow our directions for taking the prescribed pain medication and refrain from any strenuous activity. You should rinse with saltwater regularly and practice great oral hygiene to keep the surgical site clean as it heals.
COMMON SIDE EFFECTS AFTER DENTAL IMPLANT SURGERY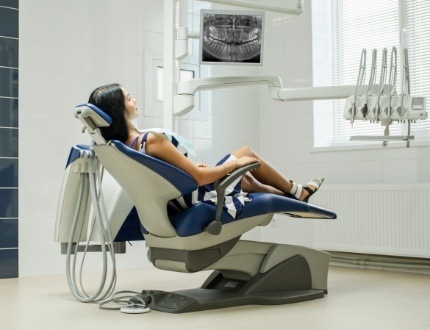 Patients who have never had oral surgery before may be concerned about what symptoms to expect while they recover. Light bleeding, swelling, and discomfort are all normal side effects after dental implant surgery. The pain and bleeding should subside in just a few days, but the swelling in your face and jaw may persist for a week or more. Overall, all your symptoms should be easy to manage with pain medication, home treatment, ice packs, and rest. If you're having trouble with your symptoms or they don't seem to be getting better, don't hesitate to contact us right away.
YOUR DIET AFTER DENTAL IMPLANT SURGERY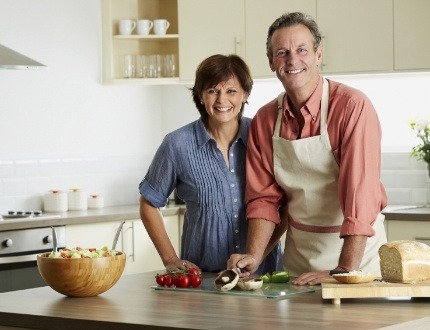 To protect your mouth as you heal, it's important that you adjust your diet for several weeks after your dental implant surgery. Stick to a diet of soft, nutritious foods like:
Soups, mashed potatoes, and pasta
Applesauce and eggs
Cottage cheese, yogurt, pudding
Frozen yogurt, smoothies, ice cream
HEALTH & ORAL HYGIENE AFTER DENTAL IMPLANT SURGERY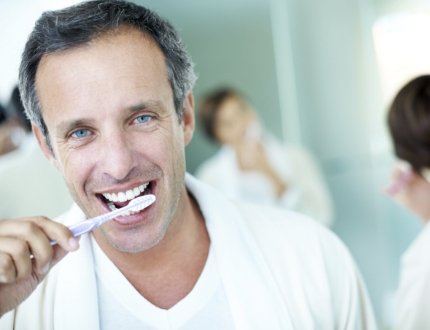 While you need to be careful not to disturb or irritate the surgical site, you should still practice thorough oral hygiene. Continue to brush for two minutes, twice a day, floss daily, and use fluoridated toothpaste. Just brush very carefully and gently around the surgical site in order not to dislodge the blood clot. If you rinse with mouthwash, do not spit forcefully, and avoid using brands that contain alcohol. You should also rinse with saltwater regularly throughout the day to ease inflammation and keep bacteria away.
WHAT TO DO AFTER YOUR NEW TEETH ARE ATTACHED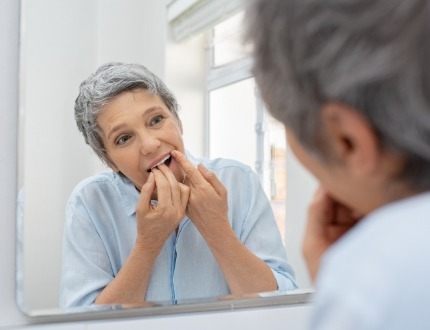 You will likely feel fully recovered from your dental implant surgery in a few weeks or less. However, your jawbone will continue to heal for several months as the dental implant integrates with the tissue. After anywhere from three to six months, you'll be ready to have your brand-new, custom-made teeth anchored in place! You may experience mild sensitivity in your gums at first, but it should be easily managed and short-lived. If you begin to notice swelling or bleeding around your dental implant, call us right away so we can investigate. Otherwise, you'll be all set to show off your new set of pearly whites to the world!
Maintaining & Caring for Your Dental Implants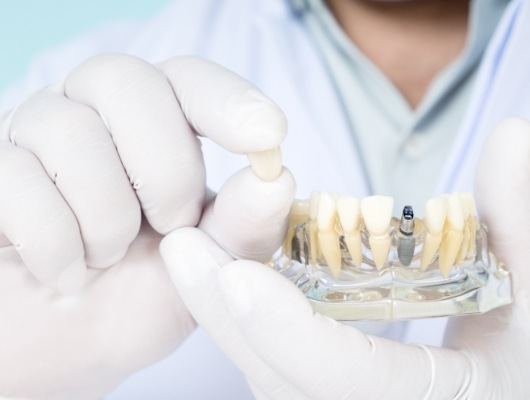 Dental implants are indeed capable of lasting for decades at a time (and even the rest of your life). However, there's one condition: you need to practice proper oral care at home and take a few steps to protect them, just like you would with natural teeth. After all, both natural teeth and dental implants shouldn't be used for certain tasks, nor can they last without proper oral hygiene. Below, you can learn a bit more about these steps going forward.
Read More
MAKE ORAL HYGIENE A PRIORITY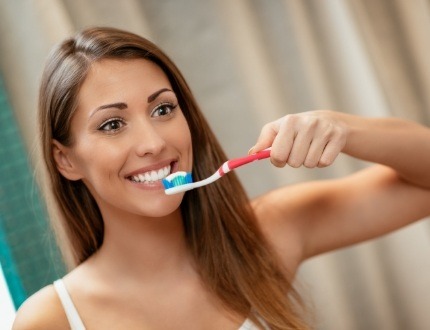 Just like you would for natural teeth, you must brush twice a day for at least two minutes at a time using fluoridated toothpaste. Flossing daily will finish the job in terms of removing plaque and food debris hidden between teeth. Make sure to give your dental implants special attention, especially directly underneath the restoration. To make your care easier, introduce an oral rinse to your routine as well.
EAT A HEALTHY DIET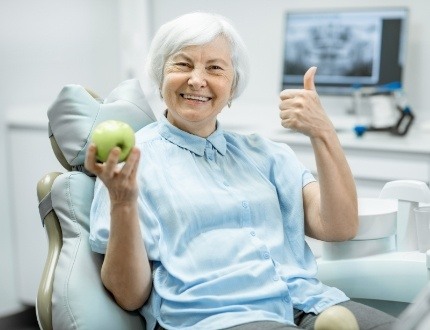 Oral care at home matters, but so does your diet. This is because eating foods high in sugar and starches throughout the day can dramatically increase your risk for tooth decay and gum disease. Instead, opt for foods like fruits and vegetables that are high in vitamins and minerals and are beneficial to long-term oral health. It's also best to avoid certain foods like hard candy or something that can crack or chip a restoration just as easily as a natural tooth.
BREAK BAD HABITS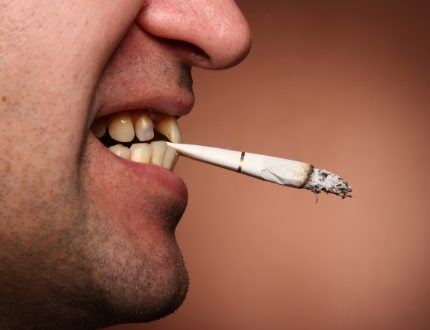 When the time comes to perform a task, whether it's opening a package or a bottled beverage, never use your teeth to get the job done. This can cause your implant's restoration to chip, crack, or even come off completely, leaving your dental implant exposed. Furthermore, you don't want to bite your fingernails or other inedible objects (i.e., pens and pencils) as it can cause damage to your restoration, costing you more down the road.
PROTECT YOUR DENTAL IMPLANTS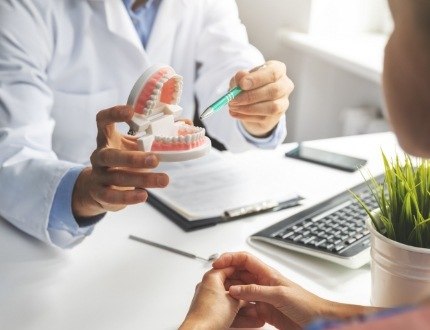 If you are a particularly active person or enjoy playing sports that have a high risk of sudden impact, it's worth it to invest in a custom mouthguard designed to protect your smile to the fullest extent. Store-bought solutions can offer some protection, but they won't feel as comfortable to wear nor last as long as one that is provided by our office. Keep in mind that a large percentage (roughly 40%) of dental emergencies occur due to playing sports without the right protective gear.
SCHEDULE REGULAR DENTAL CHECKUPS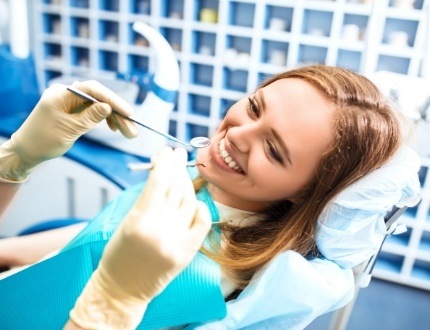 The only way to know for sure if your dental implant (as well as the rest of your mouth) is in good condition is to complete a routine dental exam every six months. Our office will carefully examine your tooth replacement to confirm it is still solidly in place and that no problems are putting it at risk (such as gum disease). We recommend visiting our office every six months.
Denture Implant Failure & Salvage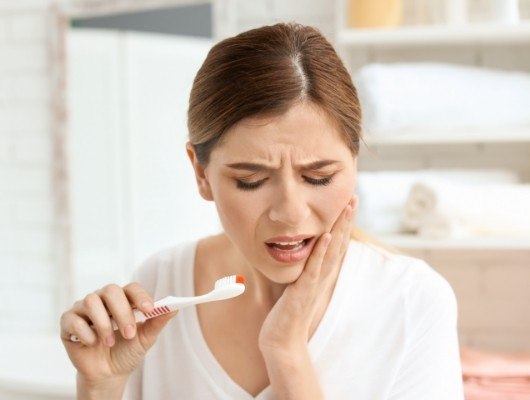 The chances of dental implant failure are slim because of the high success rate these prosthetics have upon initial placement. However, accidents can happen, osseointegration can remain incomplete, and poor oral hygiene can cause problems that require Dr. Ahir to implement what is known as dental implant salvage. By incorporating the appropriate techniques, we can work to save your smile so that you can continue to enjoy it well into the future.
LEARN MORE ABOUT DENTAL IMPLANT FAILURE & SALVAGE
Dental Implant FAQs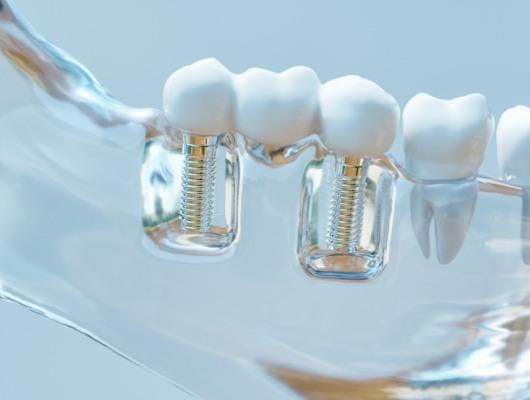 Dental implants in Denton are a great solution to treat tooth loss; however, they are a big investment. It's normal to have some concerns, but your dentist at Prime Dentistry will explain everything during your implant consultation. While you wait for your appointment, here are the answers to the most frequently asked questions.
CAN I TAKE DENTAL IMPLANTS OUT?
Dental implants are designed to last forever. Titanium posts are surgically placed into your jaw to mimic roots. Your bone will fuse to them through a process called osseointegration, so only a trained dental professional can extract them. Although you can't remove the posts, some implant dentures can be taken out for easy cleaning.
DOES IT HURT TO GET DENTAL IMPLANTS?
Although you will require oral surgery to place your posts, you don't have to spend a painful day in the dentist's chair. Your implant dentist in Denton will use a sedative or anesthetic to keep you comfortable. While you won't feel anything during your procedure, your mouth may be sore for a few days after the effects of any sedatives dissipate. You can manage your discomfort with an OTC pain reliever. Applying a cold compress will numb the area temporarily and reduce bruising and swelling. Your dentist will also recommend eating soft foods for a couple of weeks. Your dentist will review any additional aftercare instructions before you go home to promote a quick recovery, like not drinking through a straw or limiting your activities for a couple of days.
WHAT ARE THE SIGNS OF DENTAL IMPLANT FAILURE?
The risk of dental implant failure is less than 5%, but it's important to be vigilant to detect anything concerning quickly. Don't wait to contact our office if you develop redness, inflammation, or pain near your implant. The most common cause of dental implant failure is an infection called peri-implantitis. Quick treatment is essential to prevent the infection from spreading. If your implant feels loose, schedule an appointment right away. The sooner the issue is addressed, the more likely your dentist can prevent dental implant failure. If you wait too long, you may need to have them removed.
HOW LONG DO DENTAL IMPLANTS LAST?
Dental implants provide a long-lasting solution for missing teeth. They have over a 95% success rate and an average lifespan of 30 years or more. Various factors affect their life expectancies, like oral hygiene and lifestyle habits. Brushing, flossing, and using a daily mouthwash will keep your smile healthy. It's best to break any habits that can lead to dental implant failure, like smoking, drinking a lot of alcohol, or chewing on inedible objects. Don't use your teeth in place of scissors or other tools. Wear an athletic mouthguard if you play sports. Visit your dentist every 6 months for a cleaning and checkup. Ask your dentist for a nightguard if you grind or clench your teeth to safeguard your investment.