Replace Missing Teeth – Denton, TX
Enjoy Your Complete Smile Again
Missing teeth can be truly devastating for both a person's oral health as well as their self-confidence. Even a single gap in the smile can lead to a multitude of other dental problems while also limiting a person's speech and diet options. If this includes you, the team at Prime Dentistry of Denton truly feels for you, but we're ready to go a step further and offer you an answer as well. Using the latest techniques and most lifelike materials, we can bring back any number of missing teeth to help a patient achieve the full and confident smile they deserve. Learn more about your options below, and give us a call to schedule a consultation to see which one might be best for you.
Why Choose Prime Dentistry of Denton for Missing Teeth Replacements?
Custom-made restorations for every patient
All-inclusive implant care: everything you need under one roof
Able to replace any number of missing teeth
What Happens if I Do Nothing?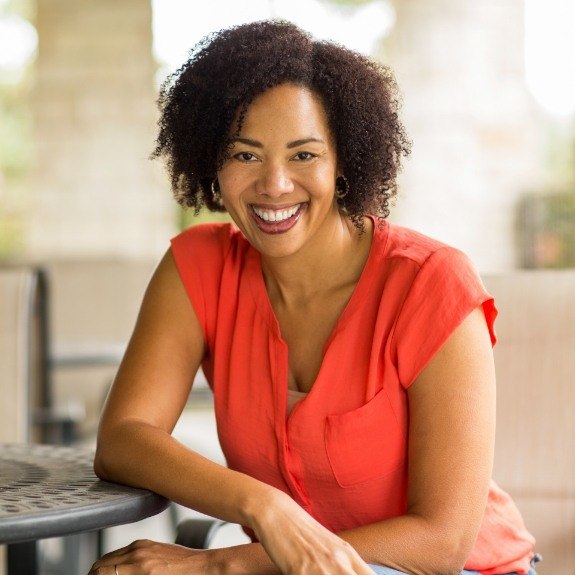 So what did we mean when we said above that even a single missing tooth can lead to additional dental problems?
Specifically, when a tooth goes missing, the jawbone that used to support it naturally starts to shrink and change shape. As a result, the remaining teeth start to shift into the open space, causing them to misalign. This bone loss causes the surrounding teeth to become unstable and loose to the point that they fall out as well, compounding a patient's problems. Basically, if you have a gap in your smile, the last thing you should do is ignore it!
Dental Bridges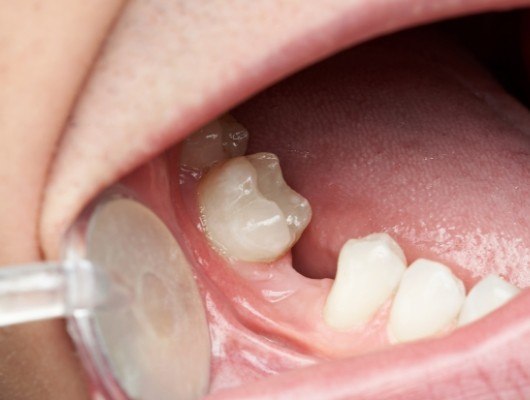 One of the most common ways to replace missing teeth is also one of the simplest. With a dental bridge, two crowns are placed on the teeth on either side of the missing one(s), and these are attached to any number of prosthetic teeth to fill in the gap. They can be made to be removable or fixed depending on a patient's preferences, and thanks to our partner dental labs, we ensure they always blend seamlessly into the smile.
Learn More About Dental Bridges
Full & Partial Dentures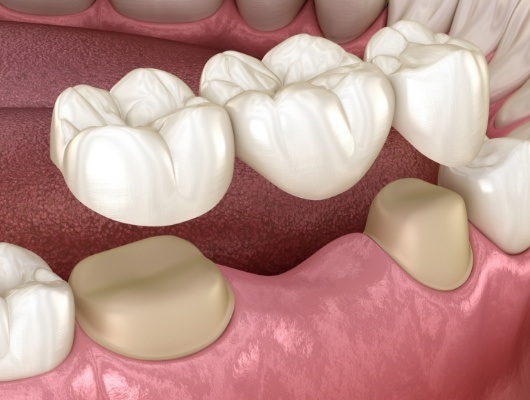 Dentures are a type of dental prosthetic that can be designed to replace either a few teeth or even an entire dental arch. Thanks to modern-day dental techniques and materials, the dentures of today are very different from the ones your parents or grandparents might have worn. Specially-designed ceramic teeth are affixed to a realistic-looking gum-colored base, and we can design them to suit any patient's dental needs. Partial dentures simply fit in the smile like the missing piece of a puzzle, while full dentures are placed directly on the gums to bring back a full row of teeth.
Learn More About Full & Partial Dentures
Dental Implants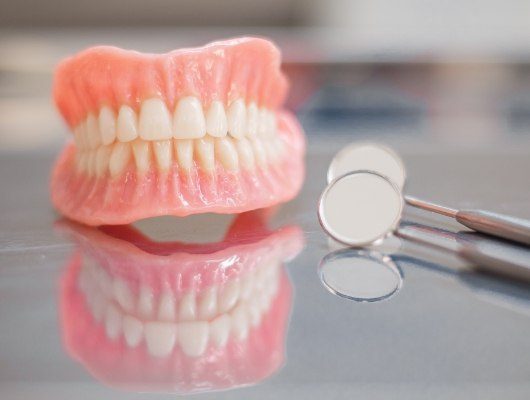 Dental implants are truly in a class of their own when it comes to tooth replacement. Firstly, they are the only treatment that restores both the root and the crown of a tooth at the same time. This not only makes them uniquely stable and secure, but it also gives them an unmatched natural-appearance. Basically, they are built just like natural teeth, so they look and function like natural teeth as well. The end result is a type of dental work that is virtually indistinguishable from nature from every angle.