Dentures—Denton, TX
Restore Your Grin to Its Whole Health Again
Dentures have been completing patients' smiles for centuries. Evidence shows that the first use of dentures dates back to Ancient Egyptian times. Luckily for you, dentures have come a long way since our ancient ancestors used them. While other replacement methods provide an alternative to dentures in Denton, they are still preferred by patients who want a faster, easier, and more affordable solution to replace their teeth. Keep reading to discover the amazing benefits that dentures from Prime Dentistry of Denton will bring your smile.
Why Choose Prime Dentistry of Denton for Dentures?
The fastest solution for replacing multiple teeth
The durability allows you to enjoy a full smile for years
We create dentures to match your natural smile
What Are Dentures?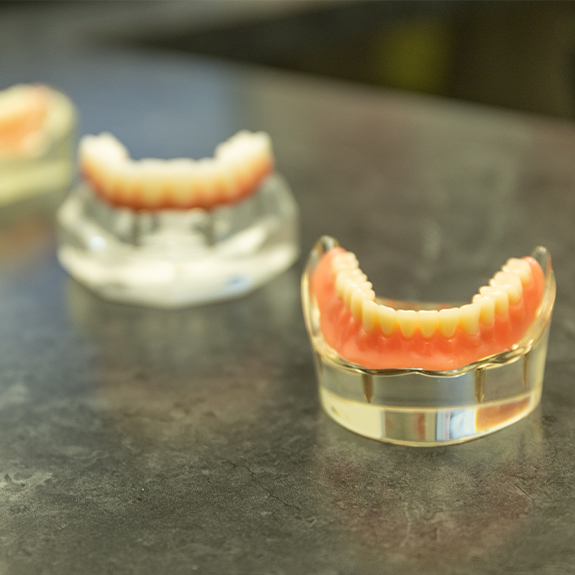 Dentures today are better than ever before. Using an impression of your upper and lower gums, Dr. Ahir or Dr. Shekhadiya will create a denture mold that accounts for every little bump and ridge in your mouth. Dentures are composed of a gum-colored base, which is attached to a set of false teeth. They rest on top of your gums using suction or clasps to stay in place. Most dentures today are made out of flexible resins that provide you with comfort and function. The best part is that they are completely removeable, which makes cleaning incredibly easy.
Your Options for Dentures
You have 3 amazing options for your dentures:
Partial Dentures
Partial dentures are optimal for patients who are missing multiple teeth in the same arch of their mouth. A major benefit of partial dentures is that they maintain your remaining natural tooth structure. Typically, a partial denture is built around your remaining teeth and held in place using clasps to complete your smile. Even though they rely on supportive mechanisms, partials are still removeable.
Full Dentures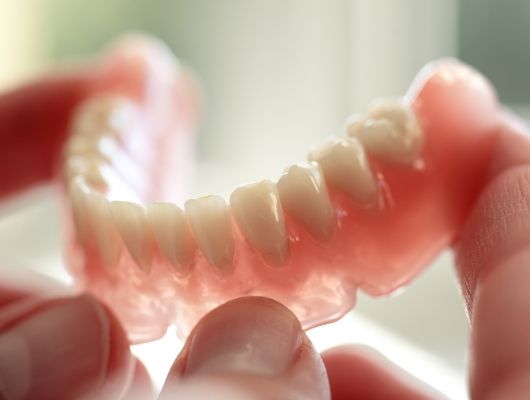 Full dentures are the quickest and most effective way to replace an entire arch of teeth. They rest on top of your gums, staying in place with natural suction. You can even use a little denture adhesive to keep them in place, but they should be removed each night for cleaning.
Implant-Retained Dentures
If you're looking for maximum security, implant-retained dentures are your best option. Dental implants are tiny titanium posts that get placed directly in the jawbone to support and stabilize your dentures. Dental implants also prevent the deterioration of your jawbone, which is caused by missing teeth. Once your implants are in place, you can simply click your dentures in and out of your mouth for the most secure and functional restoration.
The Benefits of Dentures
As you may know, missing multiple teeth can make life difficult. Without all your pearly whites, you'll likely struggle to eat, speak, and even smile confidently. Thankfully, dentures are a life-changing restoration that can drastically improve everyday living. By filling the gaps in your smile, they offer many benefits for patients who choose to get them. If you'd like to learn more about these perks, just keep reading or call our office for details.
Psychological Benefits
For many people, the most immediate response to tooth loss is a low mood. After all, a broken smile's look can reduce your self-esteem, leading to sadness and depression. From there, it's easy to retreat from social activity due to diminished confidence and insecurity.
Dentures, fortunately, solve these psychological issues. By restoring your smile's appearance and function, the prosthetics will boost your self-confidence. You thus won't have to worry about engaging with friends or family — dentures make your smile look as good as ever.
Clearer Enunciation
When you lack some of your teeth, it's more difficult to speak. That's only natural — you need all your pearly whites to pronounce words correctly. If your tongue can't touch the right ones, you'll end up lisping or worse.
It's a good thing, then, that dentures act as replacement teeth. In doing so, they allow you to enunciate more clearly than you could otherwise. All it takes is a short adjustment period, and you'll be ready to speak naturally and effectively.
Improves Nutrition
When you lose teeth, you may need to alter your diet. Many nutritious foods, including veggies, fruits, and proteins, have tough textures that can only be chewed with a full smile. Therefore, missing pearly whites could lead you to eat poor meals that cause indigestion or malnutrition.
Things change, however, when you have dentures. These prosthetics improve your chewing ability, thus allowing you to eat a wider array of healthy foods. In other words, dentures help you get the nutrients you need for optimal overall health.
Preserves Oral Health
When your mouth lacks teeth, even your remaining chompers are affected. In particular, the latter ones will start to wear from having more pressure placed on them.
Luckily, dentures bear some of the weight of regular chewing. The result is that they can reduce the wear and tear on your natural teeth.
Expands Opportunities
For better or worse, your smile is one of the first things people note about you. As a result, its appearance can affect things like job prospects, casual relationships, and more. Therefore, you're likely to face challenges in these areas if you lack some of your teeth.
Needless to say, dentures solve even this problem. They're lifelike and natural looking enough to put both friends and coworkers at ease. Consequently, you could count on them to improve your personal and professional lives.
Understanding the Cost of Dentures
The cost of dentures can vary because every case is different. How much you end up paying will depend in part on how many teeth you're missing and the overall condition of your mouth. Dr. Ahir and Dr. Shekhadiya accept a variety of dental insurance plans to provide you with quality dentures at an affordable price. To learn more about the factors that influence the cost of dentures in Denton, keep reading below.
Factors that Affect the Cost of Dentures
There are three major factors that affect the cost of dentures:
The preparation before the denture can be worn, which may include tooth extractions, treating gum disease, etc.
The type of acrylic used for the gum-colored base.
The material (usually acrylic or porcelain) used to craft lifelike and sturdy replacement teeth.
It's important to keep in mind that cheaper does not always mean better when it comes to dental restorations. Low-cost dentures made from subpar material are more likely to break easily and less likely to fit comfortably in your mouth. You get what you pay for, so why not invest in high-quality dentures that will look and feel great!
Are Implant Dentures More Expensive?
Yes, implant dentures in Denton are more expensive than traditional ones, but for good reason. While traditional dentures rest on top of your gums, implant dentures are anchored in the jawbone. By replacing your missing teeth from the roots up, implant dentures restore nearly full chewing power, never slip or shift, and look more like natural teeth. In addition, implant dentures can last much longer than traditional dentures. With proper care, you can expect implant dentures to last for 30 years or even the rest of your life! Traditional dentures, on the other hand, typically need to be replaced every 5 to 7 years. Implant dentures' unique benefits and long-lasting nature make them a wise long-term investment.
Does Dental Insurance Cover Dentures?
You can likely count on your dental insurance to reduce your out-of-pocket costs for dentures. While every plan is different, most insurance providers consider dentures to be a major procedure and generally cover around 50% of their cost. Before you commit to dentures, be sure to check with your insurance company to confirm your coverage. Our knowledgeable team will be happy to assist you in understanding and maximizing your dental insurance benefits.
Other Options for Making Dentures Affordable
Don't have dental insurance? There's no need to worry! There are other ways to ensure dentures fit within your budget. For example, qualified patients can now spread out the cost of dentures by signing up for CareCredit, a trusted dental financing organization. With CareCredit's low-to-no interest payment plans, you can break down the cost of dentures into manageable monthly payments. Ask our staff for more details!
At Prime Dentistry of Denton, we are committed to helping you restore your smile in an affordable way. To learn more about the cost of dentures, schedule an initial consultation at our office with Dr. Ahir or Dr. Shekhadiya, experienced denture dentists in Denton.
Dentures FAQs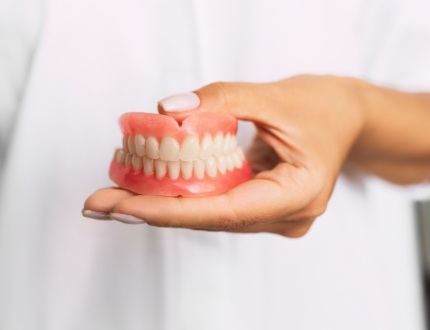 Are you considering dentures to replace your missing teeth and restore your smile again? These classic prosthetics offer patients a fast and affordable way to eat and smile with complete confidence, just like they did when they had all of their natural teeth. However, you might have some questions about the treatment, especially if you've never worn dentures before. That's why we've taken the time to answer some dentures FAQs below.
How Often Will I Need to Replace My Dentures?
Unfortunately, even the best-made dentures are simply not designed to last forever. On average, dentures last anywhere from 5-10 years, depending on how well you take care of them. The reason that dentures don't last longer is because your jawbone and facial muscles change shape over time due to the fact that you're missing the root of your natural teeth. To remedy this problem, you can get your dentures adjusted and relined, but eventually, the change will be so great that you'll need an entirely new prosthetic.
How Often Will I Need to See My Dentist?
It's a common myth that once you're missing all your teeth and get them replaced with dentures, that you no longer have to attend regular dental checkups. This is definitely NOT true. You'll still need to see one of our dentists at least once every six months for x-rays and checkups to see how your dentures are fitting, how your gums are faring, and whether you have any signs of health problems like oral cancer.
Can I Sleep in My Dentures?
While it's certainly possible to sleep in your dentures, we wouldn't recommend it. Removing them at night gives your gums and jawbone an opportunity to rest from the pressure of holding your dentures in place all day. Additionally, you shouldn't wear your dentures for a full 24 hours without cleaning them, so the night is the perfect chance to do so. Soaking your teeth overnight can remove built-up food particles and prevent plaque from accumulating on them or in your mouth.
How Do I Know If It's Time to Reline My Dentures?
As long as you keep up with your regular checkups and cleanings with us, we should be more than able to tell when your dentures need an adjustment. When a change occurs in your jaw, you will notice that your dentures no longer sit correctly within your mouth. As a result, you'll need to schedule an appointment with us so that we can refit the base. This creates a tighter fit, increasing your comfort and decreasing the chance that your dentures will come loose or fall out during your daily life.