Veneers – Denton, TX
Make Your Smile Shine Like Never Before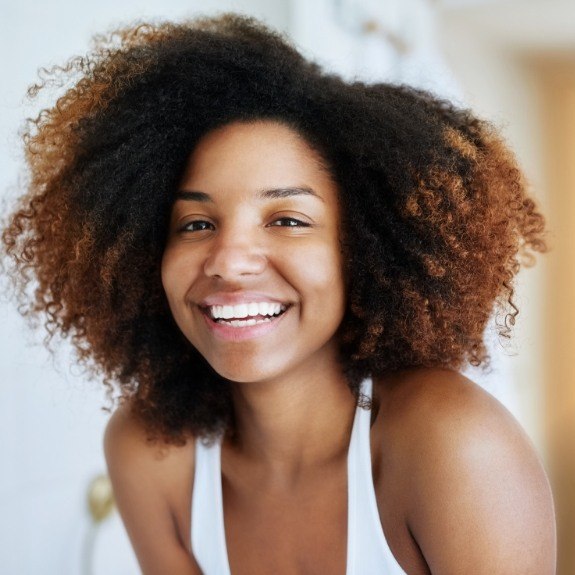 Most people have at least one aspect of their smile they wish they could improve - be it yellow stains, a small chip or crack, or a single pesky crooked tooth. Veneers are an excellent option for anyone interested in conquering these common cosmetic problems and unlocking their smile's full potential. If you are interested in changing your smile's appearance permanently, give us a call to schedule an appointment for dental veneers in Denton.
Why Choose Prime Dentistry for Veneers?
Veneers Created Using In-House 3D Printer
Dentist with Advanced Training & Experience
High-Quality Materials for Natural-Looking Appearances
What Are Dental Veneers?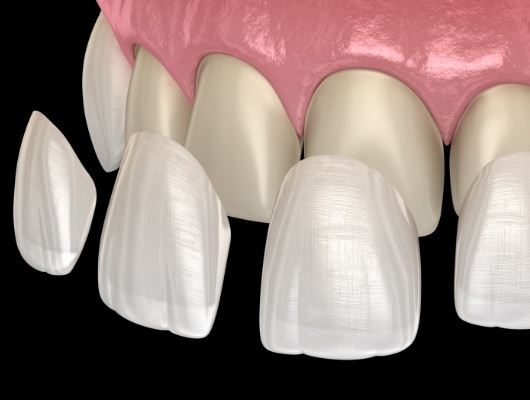 Veneers are small ceramic shells that cover the front teeth and closely mimic the appearance of a healthy, flawless smile. Veneers are designed to address common cosmetic issues including discoloration, tooth size, and tooth shape. In addition to their superior stain resistance, veneers are customized to fit a patient's unique smile and boast a completely natural look and feel.
What Is the Veneer Procedure Like?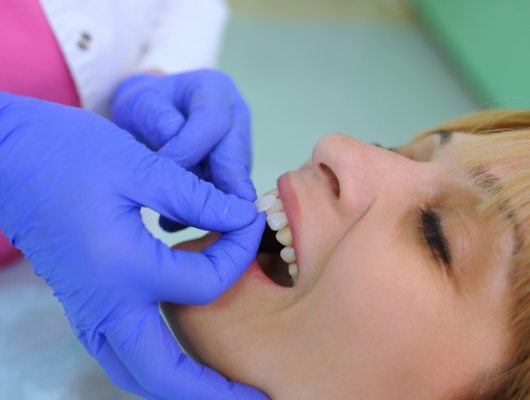 The process for receiving veneers is a straightforward one. During the initial consultation, we'll evaluate the condition of your teeth and make impressions, which are utilized to shape your customized veneers. Once they are created, you'll see the dentist to have them placed and bonded. We take great care to ensure the entire process is as quick and pain-free as possible, so you can spend less time in the chair and more time enjoying your stunning new smile.
Benefits of Veneers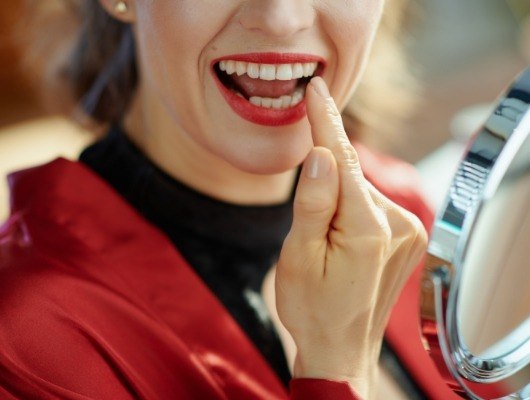 The esthetic benefits of veneers are numerous. For patients with severely stained or darkened teeth, veneers allow them to do away with their difficult dental history and enjoy the benefits of a brilliant, white smile. Since veneers are stain-resistant, they help provide long-term peace of mind so that smile detractors like stains and enamel erosion never reemerge. Additionally, veneers are fully customized to a patient's unique smile to help conceal any chips or cracks as well as close any large gaps between front teeth.
Understanding the Cost of Veneers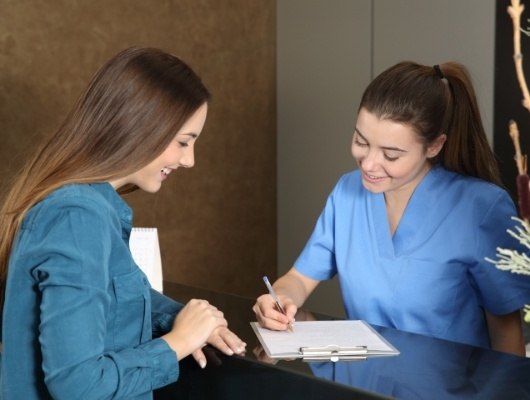 If you're considering investing in your smile with veneers, you might have questions about their cost. Our team is here to assist you with figuring out the financials so that there aren't any surprises when it's time to pay. When you visit us for a consultation, we'll assess your oral health and discuss your smile goals with you so that you feel confident about committing to treatment. Keep reading to learn a little more about the expected cost of veneers in Denton, or feel free to give us a call for additional assistance.
Read More
COST VS COSMETIC DENTISTRY: WHAT'S RIGHT FOR ME?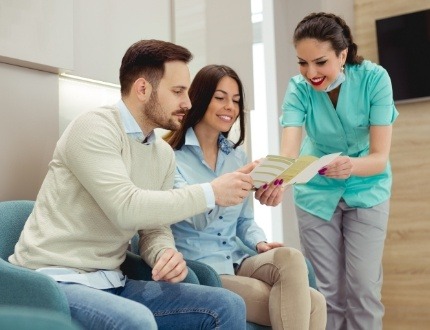 Since every patient has specific needs, no two treatment plans are identical; some smiles need a little work, while others need a lot! There are a variety of cosmetic treatments at different costs that can accomplish different things for your smile:
Invisalign – Clear aligners like Invisalign can discreetly straighten teeth; however, it can be a somewhat lengthy and expensive process, and the aligners don't assist with recoloring or reshaping teeth. It's also worth noting that for teeth with minor misalignment issues, veneers are sometimes a viable option.
Teeth whitening – Compared to orthodontics, whitening is relatively fast and far less expensive; but it's also very limited. It only assists with staining and discoloration and does nothing whatsoever for the shape or position of your teeth.
Veneers – While it's true that veneers are a higher upfront investment than options like teeth whitening or direct bonding, the versatility and longevity of the treatment make it well worth the price. They can easily address chips, cracks, gaps, stains, and more, and can be applied in as few as two visits.
HOW TO MAKE VENEERS AFFORDABLE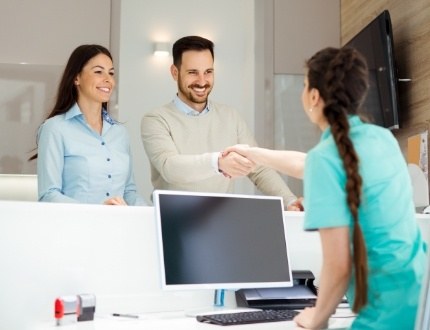 Although veneers aren't usually covered by dental insurance, there are still several other ways to make them more affordable! If you're interested in veneers but concerned about their price, our team is here to help. We're proud to offer affordable CareCredit financing that allows you to break up the overall cost of treatment into installments. If you have any questions about veneers or need a little assistance navigating the financial aspects of your care, feel free to give us a call so that we can work with you to meet your desired smile goals.
Veneer FAQs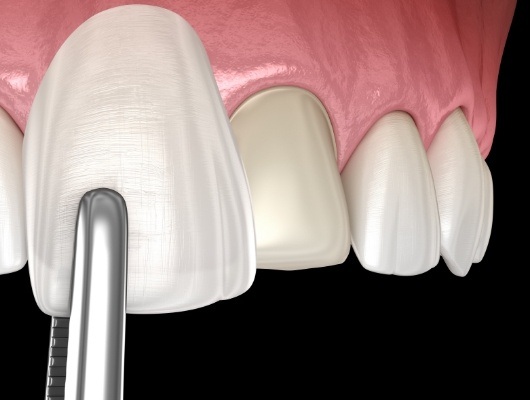 Before getting veneers in Denton, you might want to learn more about them. You need to confirm if treatment is right for you, after all. Even so, you might not know where to start. Thankfully, the Prime Dentistry team has you covered. Listed below are the answers to some frequently asked veneer questions. You can understand what to expect from this cosmetic procedure by reading them over. If you don't find what you're looking for, though, feel free to call us for more details.
DO VENEERS FEEL LIKE REAL TEETH?
Rest assured, most patients report that well-placed veneers feel natural in their mouths. In fact, it's to the point that you likely won't notice them when talking or eating!
You see, veneers are crafted to fit perfectly over your teeth. Thanks to dental impressions made during treatment, lab workers design them, so they don't protrude uncomfortably. Furthermore, their material is smooth and doesn't irritate your mouth's tissues.
CAN VENEERS BE USED FOR BITE CORRECTIONS?
While veneers can't change the position of your teeth or jaw, they can still treat bite problems.
Take a mild open bite, for instance. To fix this issue, veneers could make your teeth look longer and wider. That way, they'd make your pearly whites seem to line up nicely.
Still, keep in mind that veneers work best for bite issues that don't harm your mouth. If you need orthodontics for health reasons, you should wait to have veneers placed until after that's done.
HOW LONG DO VENEERS LAST?
On average, veneers last about 15 years or so. The prosthetics are made of durable and stain-resistant porcelain, so they often don't fail until after a decade has passed. If they stop working before that point, it's usually due to fractures, chips, or cracks.
Still, you can extend this lifespan if you give veneers the proper care. By sticking to a strict dental hygiene routine, your treatment results can even last for 30 years or more!
CAN INSURANCE COVER VENEERS?
Unfortunately, most dental plans don't cover veneers. The latter tend to be cosmetic, so insurance companies typically won't pay for them.
Even so, exceptions can and do exist. If treatment is deemed medically necessary, then your dental insurance might provide benefits. There are also cases where a dental plan includes optional benefits for cosmetic services.
In light of such scenarios, it'd be best to call your insurance carrier to confirm your coverage beforehand. That way, you can make your veneers as cost-effective as possible.