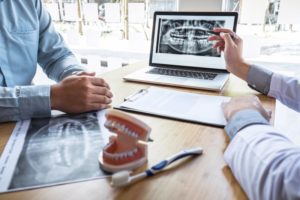 If you've never had an oral surgery before, the idea of All-on-4 dental implant placement can seem daunting. Even though you may not have experience in this realm of dentistry, you can rest-assured that this process is tried-and-true, and recovery isn't as bad as you may think it will be. While it's important to remember that every patient's body and treatment can vary, All-on-4 surgery recovery is usually a pretty straight-forward process. Read on to learn what to expect as your gums are healing from surgery.
What Can You Expect During the Surgery?
Your dentist will thoroughly plan out your surgery beforehand to determine the perfect, most supported areas of your jawbone to place the four dental implants. The procedure itself is typically an outpatient one, so you'll be able to recover at home. On the day of your surgery, your dentist will inject a local anesthetic into your operation site to make sure that you don't feel a thing. They'll make a small opening in your gums to expose the jawbone, and then they'll create a hole to place the dental implants. Some patients choose to receive load-bearing dentures directly after their surgery so they don't have to go through the healing process without teeth.
3 Questions About All-on-4 Surgery Recovery
As you're recovering from your dental implant surgery, you'll want to make sure to take the steps recommended to you by your dentist to reduce your risk of experiencing any complications.
Will I Need to Take Time Off Work?
It's often recommended that patients take off between two and three days from work to focus on recovering after their surgery. Of course, this also depends on the nature of your job. For example, if it's a more physically demanding position, you may need to take off three or more days. However, if it's a desk job, you could get away with taking off one or two days.
How Long Should I Rest For?
It's recommended to avoid strenuous physical activity, like exercising, until your dentist advises. This will give your gums a chance to heal around the implant posts and help them fuse with the jawbone successfully.
Do I Need to Change My Diet?
After your implants are placed and your denture is attached, you'll need to switch over to a liquid diet for up to two weeks post-op until your gums heal. Because your dental implants won't fully fuse with your jawbone until months after your surgery, it's a good idea to avoid foods that require a lot of chewing power, like crispy and crunchy foods.
Attending Follow-Up Appointments
Another key to making a successful recovery after your surgery is to attend any follow-up visits you schedule and make sure to stick to your dentist's recovery plan. By doing this, you'll be able to avoid complications and make a faster recovery to get back to your normal life.  
About the Author
Dr. Dhiren Ahir has over a decade of experience under his belt and loves getting to transform his patients' smiles and improve their quality of life. He is an active member of several professional organizations, including The Texas Dental Association and American Dental Association, and he's dedicated to staying up-to-date with the latest advancements in the dental field. He's also able to offer start-to-finish dental implant treatment under one roof. For questions or to schedule a consultation to learn more about All-on-4 dental implants, visit Prime Dentistry's website or call 940-514-0333.