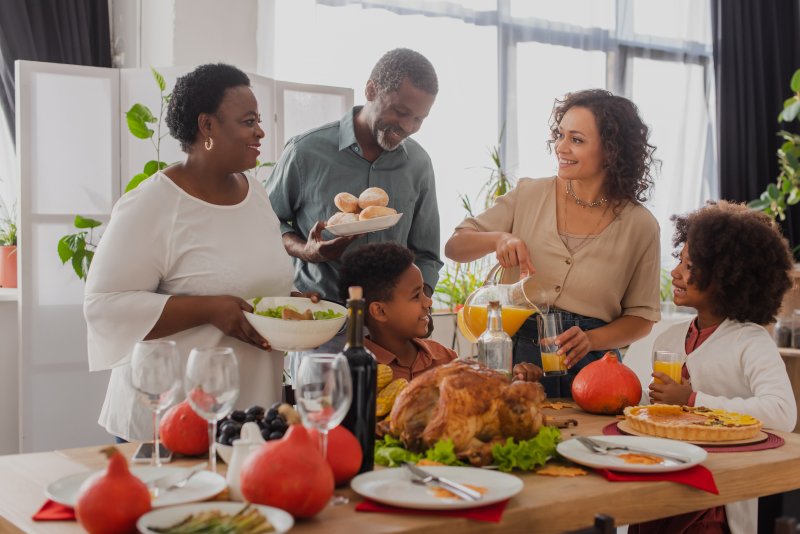 The temperature is dropping, the leaves are changing colors, and the days are getting shorter. It's that magical time of the year everyone looks forward to – the holiday season! Unfortunately, those who suffer from tooth loss may not be so excited about all the festivities. If you have gaps in your smile, you're probably thinking about all the food you can't eat on days like Thanksgiving. Well, dental implants are an excellent solution that can restore your bite and confidence. Read along to learn how investing in a new smile can help you make the most out of this season.
What Are Dental Implants?
A dental implant is a titanium post that's surgically inserted into the jawbone, designed to replace the root of a missing tooth. Following this surgery, the surrounding bone tissue will fuse with the implant via a natural process called osseointegration. That bond is what helps establish a strong foundation for the new tooth. Once fully healed, a custom-made restoration will be attached to the top of the implant, replacing the visible portions of your lost teeth. Not only can you enjoy improved oral health, but a stunning new smile that looks, feels, and acts just like your old one!
How Can Dental Implants Help You Get the Most Out of Thanksgiving?
If you suffer from tooth loss, you likely won't be able to have the enjoyable holiday experience you deserve. Instead of feeling relaxed, you'll constantly be thinking about the foods you can or can't eat. Luckily, dental implants can erase those worries and help you get the most out of your Thanksgiving – here's how.
Enjoy Good Oral Health
Dental implants are a permanent and long-lasting solution for missing teeth. One of their perks is that they can significantly benefit your oral health in the long term! The titanium post replaces a missing tooth root, promoting new bone growth over time. That helps stabilize the surrounding teeth and gum tissues, preserving your facial structure and overall dental health.
Freely Indulge in Your Favorite Foods
Everyone knows Thanksgiving is one of the few days of the year where you can freely indulge in all your favorite foods. With implants, you don't have to worry about skipping a plate this holiday season. Since they restore nearly the same chewing power as natural teeth, you can enjoy a strong, healthy bite and fill your dinner plate with all the delicious seasonal foods your heart desires.
Smile with Confidence
For some people, Thanksgiving is the only opportunity to reconnect and socialize with loved ones who aren't seen often. If you have missing teeth, you might spend that special time feeling self-conscious and hiding your smile every chance you get. Fortunately, dental implants will allow you to beam with confidence once again. You'll be able to comfortably flash your pearly whites without giving it a second thought!
Don't let your missing teeth hold you back this holiday season. By investing in dental implants, you can comfortably enjoy your Thanksgiving feast just like everyone else!
About the Practice
At Prime Dentistry, we strive to treat every patient that walks through our door like a member of our very own family. Our team is passionate about providing exceptional, state-of-the-art, individually tailored dental care that's guaranteed to exceed even the highest of expectations. If you have missing teeth, we can restore your smile and confidence with dental implants. Visit our website or call (940) 514-0333 to schedule a consultation.