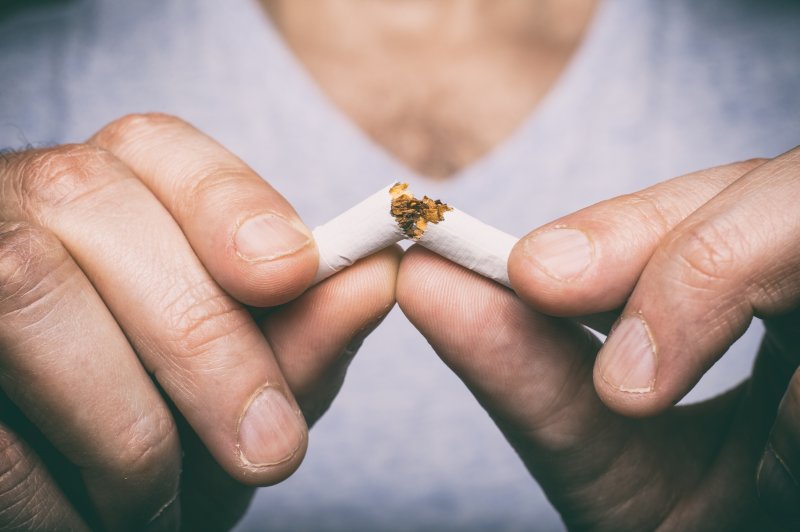 It's no secret that smoking is a poor habit for your health. Not only does it increase your risk of multiple health issues (i.e., heart disease, stroke, cancer, etc.), but it makes you more likely to lose all your teeth! By quitting, you can help preserve your smile and keep it intact for life. If you've already lost your teeth, you may think there's no reason to break this habit. However, that's not the case at all. Smoking can make everyday tasks far more difficult for people with dentures. Read on to learn a few reasons why quitting smoking is ideal for denture wearers!
Faster Healing
Smoking can significantly delay your healing, which is why it's always recommended to avoid the habit following a dental procedure. After tooth extraction, your mouth will likely feel very uncomfortable. To ensure a speedy and smooth sailing recovery, you should quit smoking. Doing so will help lower your risk of issues like dry sockets and infection. If you're not ready to fully drop the habit, you can quit for a short time during your recovery for a faster healing process.
Ensure Successful Results
Patients considering implant dentures should seriously consider quitting smoking. Since it's an investment that can drastically improve your overall quality of life, you want to make sure you're doing everything possible to protect it. Smoking can increase your risk of implant failure by 2-3 times. In fact, studies show that smokers have a dental implant survival rate of under 90%!
Avoid Staining and Discoloration
Believe it or not, dentures are also vulnerable to staining by cigarette smoke. Unfortunately, they don't respond well to whitening treatments like natural teeth do. While there are ways to clean dentures to remove staining, it's not always effective. The best way to minimize discoloration from cigarettes is by quitting the habit for good. However, you can also get denture teeth that are ceramic to repel more stains.
Improve Comfort
One major side effect of smoking is that it tends to decrease saliva production. Dry mouth itself is annoying, but it's even worse when you wear dentures. Since dentures sit on your gums, there are no sturdy tissues to support biting and chewing. Your saliva is meant to cushion and lubricate dentures to reduce discomfort. It also helps condition the gums to help them stay healthy and less irritated. If you have dry mouth, you're more likely to report discomfort from dentures than nonsmokers.
About the Practice
At Prime Dentistry of Denton, we want to ensure every member of your family gets the beautiful healthy smile they deserve. From routine checkups to smile-rebuilding solutions, we have everything you need in one convenient location. If you need help quitting smoking because you recently got dentures, don't hesitate to reach out for assistance. You can get in touch via our website or call (940) 514-0333.